Ok, so to celebrate me being
featured
on "Feature Friday" one of my favorite websites/blogs ever
Chica & Jo
I have decided to do a giveaway.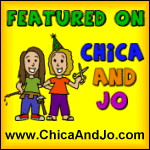 What to giveaway? I decided I would let you choose you can either get a small taggie blanket or (1) burp cloth and (1) diaper wipe holder or a copy of the book Hello, Cupcake (where the butterfly cupcakes came from) with tons of cute cupcake ideas.
For the taggie blanket the finished size is roughly 15 x 15 when it is finished with the name embroidered on the middle block. I will let you choose the color style and I will do the rest. Because I do have other things to do and will be doing this custom it should go out in about 2 weeks after we come up with color scheme. For the custom burp cloth and diaper wipe holder you can pick the color style and I will work with you on what you would like for the custom part on the burp cloth.

Lets see, how to get entered:
* (1) Entry if you start following my blog (leave a comment saying you are now following)
* (1) Entry if you leave a comment telling me which one you would pick and the color scheme or idea if I made one for you (leave a seperate comment)
* (1) Entry if you post about this on your blog (leave a comment with the link back to your blog saying you posted about it)

You can get a total of (3) entries and really it isn't to hard to get entered. Right? Right! I will leave this open until next Friday (seeing as how my blog is still new and I want as many people to see this as possible). On Friday around noon CST I will close it off and announce a winner.

Yeah!!! I am so excited, my first giveaway! ENJOY and come back to look for my tutorial on how to do a Jack-O-Lantern pillowcase dress early next week (sorry I have been really busy with work and haven't had a chance to put it together).
TTFN!